Neverstore släpper album som Eko -Tee

Den 27 januari 2010 släpper Neverstore albumet "Age Of Hysteria".  Albumet släpps i två versioner: ett regelrätt album och ett digitalt album i form av en eko-t-shirt.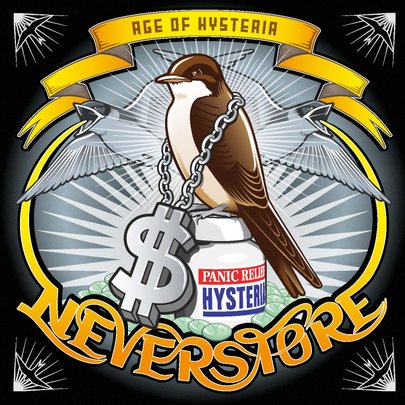 T-shirten är designad av Erik Ohlsson (Millencollin) och innehåller en voucher som ger tillgång till albumet digitalt. Varje såld t-shirt genererar ett planterat träd i Vi-skogens projekt kring Victoriasjön i Afrika.

"Vi ville vända vår blick utåt och göra nytta efter att ha spenderat en lång tid i studion med albumet "Age of Hysteria" som på något sätt är en reflektion över den tid vi lever i", säger Oscar Kempe, basist i Neverstore.
Vi-skogen arbetar för att förbättra levnadsförhållandena för fattiga småbrukare i Östafrika. Arbetet sker främst med rådgivning och utbildning i förbättrade odlingstekniker, organisering och marknadsföring samt mikrokrediter.

"Vi är mycket glada för det här samarbetet med Neverstore. Det här är ett nytt sätt för oss att arbeta och jag hoppas på detta sätt att engagera en ny målgrupp för att förbättra livet för fattiga människor. Varje träd som planteras genererar stora sociala och ekonomiska effekter för en lång tid framöver", säger Vi-skogens Sverigechef, Henrik Brundin.
Alltsedan Neverstore i januari 2007 fullängdsdebuterade med "Sevenhundred Sundays" har det rullat på i allt snabbare takt. De har spelat på de stora svenska festivalerna likväl som på klubbar i Sverige och Europa, legat på hög rotation i svensk radio och tilldelats MTV Europe Music Awards pris för bästa svenska akt – två år i rad. De har också varit sin första sväng över i Japan tillsammans med det kanadensiska punkbandet Sum 41 vars gitarrist och sångare Deryck Whibley producerat låten "Summer" på det kommande Neverstorealbumet. Liksom de tidigare albumen "Sevenhundred Sundays" och "Heroes Wanted" släpps också "Age of Hysteria" i Japan där framgången är ett faktum.
Albumtiteln "Age of Hysteria" syftar på den hysteri som killarna anser vara typisk för den tid vi nu lever i, alltifrån influensavarningar och religiös fanatism till utseendefixering och kändistillbedjan.

Albumet släpps 27 januari och därefter ger sig bandet ut på turné.