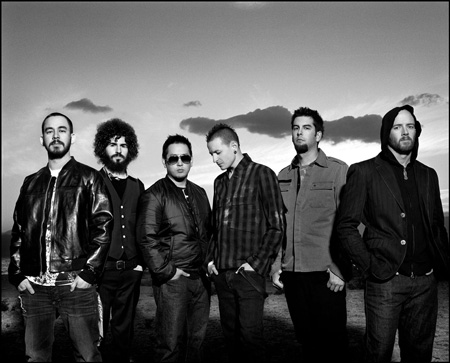 Det Los Angeles baserade rockbandet Linkin Park släpper äntligen sitt efterlängtade sjätte studioalbum. Albumet har fått namnet AThousand Suns, första singeln heter The Catalyst, den premiärspelades på radio igår.
Enligt Linkin Park har de inte gjort ett regelrätt album, de har plockat sönder sitt band till grunden och byggt upp det igen med ett helt nytt sound.
– We didn't know if any of those unorthodox ideas could be incorporated into a traditional album, but we knew we didn't want our next album to be predictable, säger Linkin Park om kommande albumet.
De sex man starka bandet gick tillbaka till sina rötter och spelade in A Thousand Suns i samma studio som debutalbumet Hybrid Theory.
Alla bandmedlemmar röstade för att ta ut svängarna rejält på detta album och skapa något helt oväntat och nytt. Helt utan tanke på radiospelningar och kommersiella baktankar gick de in i studion för att skapa ett nyskapande album som ändå har det karaktäristiska Linkin Park soundet.
Linkin Park blev nyligen utnämnda till det största alternativa rockbandet detta deccennie av Billboard. Under de senaste fem åren har de sålt ca femtio miljoner album, släppt ett pärlband av hitsinglar och vunnit ett par Grammy Awards. De har skaffat sig en stark fanbase med flera miljoner fans över hela världen.

Hur är då plattan?
"A Thousand Son's" som skivan heter är 15 låtar lång historia. Visst skiljer sig plattan mot deras tidigare och framför allt debuten "Hybrid Theory" som var en ganska barnslig testosteron-popplatta med mycket starkt låtmaterial. Efter deras framgång har vi följt ett ojämt L-P som med halvdassigt låtmaterial ändå lyckats hålla sig kvar . Jag vet inte hur det har burit säg åt men antar att det beror på deras otroligt hittiga vokaler och hookiga refränger som puffar till oss då och då.
Nya plattan är inte en rockplatta men för den sakens skull inte en dålig platta. "The Catalyst" som är första singeln ut från nya plattan trodde jag var Tiestos nya dänga. Fantastiskt hittig låt med alla ingredienser för att bli en hit. Men inte en rockhit! Kan det vara så att utvecklingen inom musikindustrin där gränser tydligt korsars och blandas skapat denna fusion av ingenting alls. Hiphop blir house, rock till trance. Vad vet jag, men jag vet att detta kommer vara en besvikelse för Linkin Parks fans men ett "stort hej" till nya fans.
Elektroniskljudbild har alltid präglat L-P och har av mig betraktas som en snällare variant av Slipknot. "A Thousand Son's" är en mycket snällare och lugnare platta än vad vi tidigare har hört från L-P. Det har därmed backat ur sitt eget fack och jag skulle aldrig i välden finna liknelser till Slipknot. Om du plockar bort rockhjärnan och tar dem för vad det är kommer du gilla plattan. Söker du ett nytt "Hybrid Theory" så gör dig inte besvär, du kommer bara bli besviken.
Leon Grimaldi