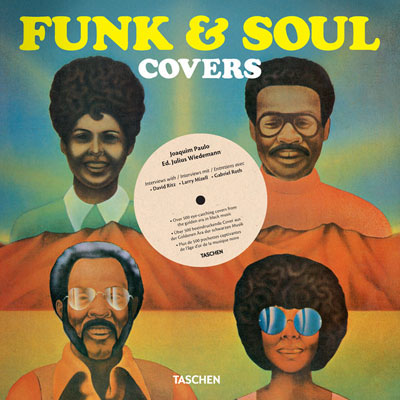 Det är med buller och brak som tegelstenen landar i brevlådan. Och det är även med dunder och brak jag langar upp den på skrivbordet. Sliter av emballaget av den blytunga besten, inser att jag har en skattkista i handen. (klicka på bilden för sampler)
Här är boken som funkfantasten har väntat på, ett stycke musikkultur i inbundenform. Men även en salut åt den fantastiska konstformen som omslagen till funkplattor behärskar. En alldeles egen konstart, fult, snyggt, sexigt och i bland överdrivet, men vackert!
500 omslag med tillhörande grupper och artister visas upp i Funk & Soul Covers. Till bilderna presenteras plattorna i tre språk Tyska, Engelska och Franska. Några få rader om gruppen och platan och varför just den utvalda plattan finns med. Intressanta och direkta beskrivningar utan krussiduller.

Man har träffsäkert ringat in det bästa, lite okänt lite ökänt och lite oförskämt ex grupper som Earth Wind And Fire – Eddy Senay – The Temptations – Wanda Robinson till sist Prince för att nämna några.
Som om det inte var nog har man även låtit intervjua några av genren kanske mest kända deejays och deras igenom tiderna top 10 listor över bästa Funk och Soullåtar. Du möter bla Quantic – Steinski – Sean P – Andy Smith för att nämna några namn ur deejaylistan.
Som grädden på moset har man även klämt in  några av genrens stora profiler som Gabriell Roth – David Ritz – Larry Mizer.

Kvalité väger!, Funk & Soul covers är inget undantag (4kg pure funk n soul)). Detta är kvalitet i snygg förpackning (10″ singelformat) innehåll du aldrig tröttnar på med skivorna du önskar att du hade. Sätt på en kanna kaffe, ta ledigt från jobbet och börja botanisera.  En snygg guide över altaret i musikkulturens moderkyrka, Funk & Soul i sin glänsande enkelhet.

Text:Leon Grimaldi
Taschen
ISBN: 978-3-8365-1956-1
pris ca 300kr