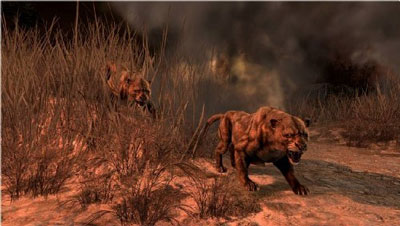 Activision Cabelas Dangerous Hunts 2011 till PS 3 kommer levererat med ett riktigt snyggt jaktgevär (dock inte svart pga lagar och regler), som är trådlöst och rörelsekänsligt. Med det så är du kittad för att ta dig ann allt tänkbart vilt. Änder, gamar, ormar, björnar, noshörningar, lejon och allt annat smaskigt som hör djurvärlden till.
Du kontrollerar allt via ditt gevär, du kan välja att jaga med älgstudsare, hagelbrakare eller med pistol. Men även en användbar feature som "hunt instinct" underlättar din jakt med något som liknar en värmekamera-funktion. Med de färdigheterna ska du ta dig igenom landskap med elaka djur som vill äta upp dig.
Det finns två mode att spela i, Storymode eller Gallery där du kan spela 4:a spelare samtidigt.
Storymodet är underhållande men tenderar till aningen svårt och medför frustation. Det är långt mellan "save pointsen" vilket gör att när man dör så tvingas man börja om flera mil bak i spelet. Det gör en mottligt road när man med nöd och näppe lyckats ta sig förbi lejonflockar, pumor och noshörningar och blir ihjäl biten av en gam, och göra om allt. Det är helt uteslutet att kötta runt i Cabelas Dangerous Hunts 2011. Du måste spela smart, smyga i gräset och ta dig fram smidigt. Annars kommer en vargflock, lejonflock eller något annat gosigt djur att äta upp dig.
Storymodet hade varit underhållande om inte det varit så förbannat svårt (ja, jag vågar erkänna att det är svårt) . Det tar tyvärr ned spelglädjen en aning, för ett spel som annars hade varit riktigt skoj. Idén är bra och det är roligt att smyga omkring i hyfsat snygga miljöer. Dock kan det ibland kännas aningen kantigt, och man hade kunna lägga ned mer tid på snyggare animationer. Det är ingen dissaster men inget grafisktunderverk heller.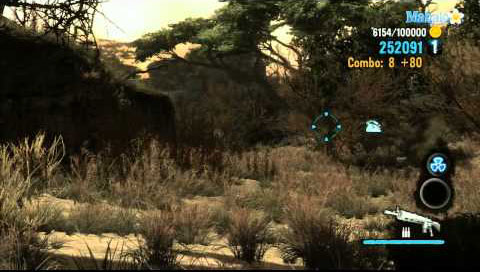 Gallery mode, det är här det roliga börjar. Storymodet var för mig en frustation medans gallery mode lyfter hela spelglädjen. Du ska på så kort tid som möjligt skjuta dig igenom olika scener och knäppa så många djur som möjligt. Använda rätt vapen för rätt djur och skjuta rätt djur för att inte få minus poäng. När du lyckas skjuta till dig en medalj låses det upp en ny stage och så fortsätter det.Det blir mer som ett klassiskt shot-em-up där en skjutglad kille som jag känner att man hör hemma. Du kan spela upp till fyra personer och även gå ut på nätet och köra. Dock har jag inte testat det eftersom Sonys network har lite problem (som vi alla vet)
Med gallery mode, det solida vapnet och farten som gallery mode ger så är Cabelas Dangerous Hunts 2011 riktigt roligt spel. Ett spel man spelar under en tid, lägger undan och spelar igen. Det blir en klassiker i spellådan eftersom det är lika kul att spela det ensam som fyra stycken och då blir det riktigt socialt.
Det ska gå att spela utan geväret, dock har jag inte fått det fungera men kan tänka mig att det tar bort stora delar av känslan. So go with the big gun!
Text Leon Grimaldi