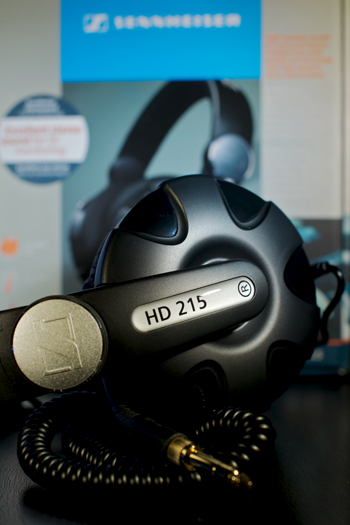 Att hitta rätt dj-lurar är ofta svårare än vad man tror, eftersom det är många gånger handlar om personligt tycke och man går gärna på gammal vana. Vissa vill ha mycket diskant andra mer bas etc. Dock föredrar jag själv något skarpare mellanregister.
Jag har testa Sennheizer Hd 215 och Sennheizer Hd 25-1 II två till utseendet helt olika lurar, så även ljudkvalitén.
HD 215 är ett par riktigt stora lurar, fördelen är att man får ett brett ljud med bra stöd även i de lägsta frekvenserna. Elementen hänger snabbt med utan att storkna och omslutningen är mycket god. Ljudet i snäckan är riktat med precisson för att ge den ultimata känslan och en perfekt ljudbild men hamnar lurarna lite på sned så är hela den bilden förstörd. De är alltså förvånansvärt känsliga över att bli flyttade någon millimeter åt höger eller vänster visst kan man kompensera med att vrida ena luren men det blir lite som att flytta ett dasslock.  När väl HD-215 sitter på plats så låter de fantastiskt. Dock tycker jag att storleken på lur lämpar sig mer för studio och sång än för direkt deejaybruk då de är lite för klumpiga att arbeta med och framför allt släpa med sig till gigget. Missförstå mig inte!, HD-215 är en toppen lur med alla egenskaper du söker hos bra lurar, jag personligen skulle föredra den i något mindre format men med samma ljudbild.
Teknisk Info
Jack plug3,5/6,3 mm stereo
Nominal impedance32 OWeight w/o cableca. 280 g
Transducer principledynamic, closed
Ear couplingcircum-aural
Cable length3 m
Frequency response (headphones)12…..22000 Hz
Sound pressure level (SPL)112 dB(SPL)
THD, total harmonic distortion<0,2 %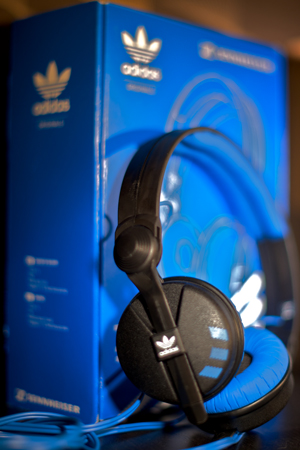 HD 25-1 II Adidas edition är tillskillnad från HD 215 än mindre och smidigare lur. Vridbara lurfästen för att snabbt kunna flytta lurarna mellan öronen när man gigar. Jag är den typ av deejay som bara que-lyssnar i lurarna för att sedan skicka ut mixen. Jag har sällan medhörning i lurarna samtidigt som jag mixar ut, därför åker lurarna av på ca 1000ggr på en kväll. Det gör att storleken och vikten på HD 25-1 II passar mig utmärkt för deejaying.
Ljudbilden i  HD 25-1 II är precis där som jag vill ha den. Lite mer mellanregister, inte den djupaste basen eller högsta diskanten utan man har valt att plana ut den.  Jag kan tydligt nyansera baskaggen och basgång ifrån varandra och det underlättar mixningen, många billiga lurar har förmågan att kleta ihop i de frekvenserna. Lurarna sitter tight och trotts att de är små och nätta sluter de runt helt perfekt.  HD 25-1 serien är inget nytt, den har varit med ett tag. Ni som kört med den tidigare versionen kommer inte märka några större skillnader. Men för er som kört med ex Pioneer  tycker jag att det är dags att lägga bort deras klumpiga lur och testa HD 25-1 II och ni kommer märka  liksom jag att detta är en mycket bra lur som passar de flesta deejays och som dessutom spar på hörseln då man slipper den vassa diskanten raspandes i lurarna i disaster Hi-fi version . Nackdelen med HD 25-1 II mot HD 215 är att på hög volym så har de lite svårt att hänga med och distar gärna, HD 215 klarar hög volym galant.
Teknisk Info
Rugged closed dynamic headphone. Max. SPL 120 dB,
frequency response 16 Hz to 22 kHz, THD < 0.3 %,
nominal impedance 70, load rating 0.2 W. 3 m
cable with 3.5 mm stereo jack plug and adaptor to 1 /4 "
(6.3 mm) stereo jack plug.
foto/text Leon Grimaldi