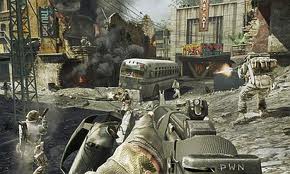 Okey jag kommer bli halshuggen av alla de fans som Call of Duty dragit till sig igenom åren. Medans vi andra funderar -När tar det slut. Det tar aldrig slut, vi kommer att få leva med att Call of Duty är en all timer of all times.
Nåja nu sitter jag här i vart fall med den nya "Black Ops". Ni som spelat de tidigare spelen känner direkt igen er. Kanske aningen smartare soldater vilka är 5 olika karaktärer som slumpvis dyker upp aningen snål skaparglädje. CoD Black Ops är i vanlig ordning ett hjärndött skjutande och dödande där man ibland kan blunda och spela.
Visst är mellanspelen roligare än de monotona banorna som har horder av bad guys och det blir ett fräscht avbrott. Man ser huvudbanorna som transportsträcka att få köra ett underhållande mellanspel. Det är kanske det som lyfter CoD som alltid är så monotont att man tröttnar efter tre rundor.
Tycka vad man vill om CoD men det fyller en självklar roll i sin genre. Multiplayern är mäkta populär och det är inga problem att hitta bra spelkamrater. Snyggt rakt igenom och välbyggt. Det känns som det är byggt på rutin och bristen ligger mest i att det är ett monotont skjutande, men det har inget med kvalitén på spelet att göra som är välarbetat och perfekt i genren. En genren som jag personligen tycker känns aningen 2002 och som stagnerat och inte hänt så mycket i konkret i under åren. Skulle se fram i mot ett litet nytänk och föra fram spelglädjen mer än snygga animationer, eller varför inte en kombo av båda.
En parantes:Det jag gillar allra mest med Black Ops är det minispel som följer med som en bonus. Här ska du döda nazi zombies och tar dig igenom nivåer fartfyllt och enkelt. Du hittar vapen på vägen och den skrämmande andra världskrigsmiljön är en perfekt kontrast mot Black Ops. Ett smått beroende framkallande litet spel alá Resident Evil light.
Vi spelade Call Of Duty Black Ops på PS3 finns även till Xbox